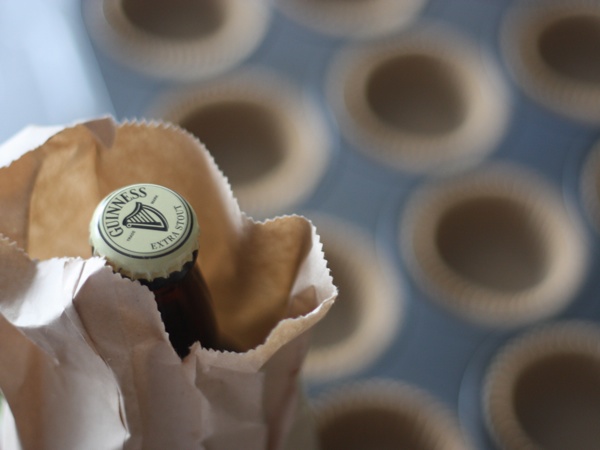 What? A chocolate Guinness cupcakes??
That was my first reaction when a friend suggested we try these out. I don't really like Guinness but the combination between chocolate and Guinness sounded intriguing and very different to the usual red velvet cupcakes I make. The result was really moist and chocolatey cupcakes. The Guinness perfectly complements the chocolate and adds moisture to the cake batter. So even you don't like Guinness, you might really love these cupcakes!
This recipe comes from Cupcake Jemma's Cake Book. She is well-known for her YouTube videos on her CupcakeJemma TV channel, but also has her own shop in London called Crumbs and Doilies. Check it out next time you are in London!
Super moist chocolate Guinness cupcakes
Ingredients
For the chocolate cupcakes:
250 ml Guinness Original
250 g unsalted butter, cubed
225 g plain flour
75 g cocoa powder
400 g caster sugar
2.5 tsp bicarbonate of soda
140 ml soured cream
2 large free range egg
1 tsp vanilla extract
For the cream cheese icing:
150 g unsalted butter
240 g full-fat cream cheese
840 g icing sugar, sifted
Instructions
Preheat the oven at 160°C. Place the Guinness and butter in a pan over a medium heat and allow the butter to melt, but make sure it doesn't boil. Whisk the cocoa powder and sugar until dissolved, then remove from the heat and allow to cool slightly.
Crack the eggs into a large bowl, add the vanilla extract and soured cream, then beat until well combined with an electric mixer. Gradually pour the Guinness mixture, whisking continuously. Mix the flour and bicarbonate of soda together in a bowl, then add the wet mixture, beating continuously until silky smooth.
Transfer the cupcake mixture to a small jug and carefully fill the paper cases just over two-thirds full. Bake for 20 minutes or until the spring back when touched. Leave to cool, transferring to a wire cooling rack after 5 minutes.
Beat the butter and cream cheese with an electric mixer for 2-3 minutes using the paddle attachment, or until pale and smooth. Sift the icing sugar into a large bowl, then add to the butter mixture in two stages, beating well between each until beautifully smooth - if the mix seems too loose, add a little more icing sugar until the consistency is just right. Start on a low-speed and build up to medium.
Decorate the cupcakes with the icing and sprinkles.
Notes
Tips:
- Use bottled Guinness (Guinness original) rather than the can as it's less foamy and pour it slowly down the edge of the measuring cup. Pouring it in quickly would create foam and distort measurements.
- Make sure that the butter and the cream cheese are at room temperature before you prepare the frosting.
- Do not overbeat the cream cheese as it will produce a grainy and runny frosting that is too soft to hold its shape.