French honey spice bread (or pain d'épices)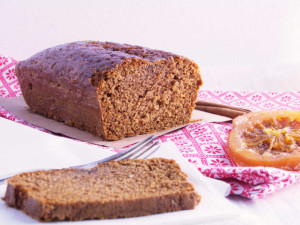 320 g (scant 1 cup) acacias honey (or other flower type honey)
55 g eggs (approximately 1 large egg)
110 g (1 stick) melted butter
130 g (1/2 cup + 1 Tbsp) whole milk
270 g (2 cups + 2 Tbsp) flour
9 g (1¾ tsp) baking soda
9 g (3¼ tsp) ground cinnamon
1 g (1/2 tsp) ground cloves
1 g (1/2 tsp) ground cardamom
2 g (1¼ tsp) ground ginger
Butter and flour to line the cake tins
100 ml (scant ½ cup) Gewüztraminer or the juice of an orange
Candied fruit for decoration
150 g (~1/2 cup) apricot jam for glazing
Preheat the oven to 165°C (330 F). Line the bread tins (18x7 cm, height 6 cm; or about 7x3 inches, 3 inches high) with butter and flour.
Melt the butter and let cool.
In a small pan, heat the honey to 50°C (120 F).
Mix the flour, baking soda and spices, then sift into a small bowl.
Using the whisk attachment or a hand whisk, mix the eggs with the warm milk until you see a foam start to form, then add the milk and melted butter.
Once combined, add the flour mix and switch to the paddle attachment if using the electric mixer and mix until the dough is homogeneous. Don't overmix.
Pour the mix into the two bread tins and bake for 35 min at 165°C (330 F).
Remove the cakes from the tin, and brush them with the Gewürztraminer or the orange juice.
Optional: to give the cake more shine, heat up some apricot jam and lightly brush the cakes with the heated jam. Use candied fruits to decorate the cakes.
Recipe by
Nathalie Bakes
at http://nathaliebakes.com/cakes/honey-spice-bread-or-pain-depices/