Candied orange slices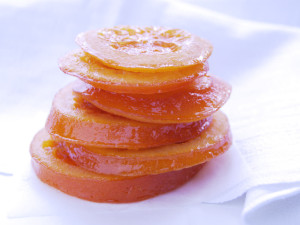 2 organic oranges
500 g (2 cups) sugar
500 g (2.5 cups) water
Wash the oranges well (even if they are organic) and cut them into 3-4 mm (1/8 inch) thick slices.
Bring the water and sugar to the boil and let cook until the sugar is completely dissolved. Then add the oranges.
Turn the heat down and let simmer for 15 min. Remove oranges from the heat and let them cool in the pan/syrup.
Repeat the heating and cooling steps a further 4-5 times, until the oranges are candied and slightly translucent.
Remove the oranges from the pan and transfer them to a cooling rack to dry. Place a sheet of wax paper or a plate under the rack to collect the dripping syrup and let the orange slices dry off for 24h.
Store in an airtight container.