Quince and gingerbread verrine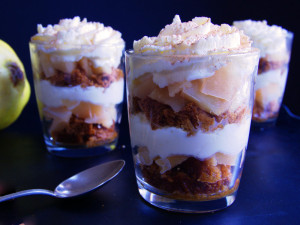 3 quinces
1 litre (4 cups) water
100 g (1/2 cup) sugar
100 g (1/4 cup) honey
400 g (2 cups) mascarpone
180 g (3/4 cup) heavy cream
50 g (1/4 cup) sugar
Put water, sugar, and honey into pot and start simmering.
Peel quinces, cut into quarters lengthwise, core them, and immediately put them into the poaching liquid to prevent them from turning brown.
Simmer for 30 - 40 minutes until soft. You know they are done when a knife easily pierces the flesh.
Set aside to cool.
Save the poaching liquid for assembling the verrines.
In a mixer with the whisk attachment, beat the the mascarpone, heavy cream, and sugar until it thickens. This should take a minute or two.
Cut the gingerbread or homemade honey spice bread and poached quinces into small chunks
Cut the poached quinces into small chunks
Layer the ingredients as follows:-Put the honey spice bread on the bottom. Moisten by adding a few tablespoons of the poaching liquid.-Add a layer of diced quinces.-Top with a layer of mascarpone cream.-Repeat until you get to the top of the glass
Top by sprinkling with cinnamon
If you can't find quinces, you can just as well substitute them for pears or apples.
Recipe by
Nathalie Bakes
at http://nathaliebakes.com/mousses-entremets/quince-and-gingerbread-verrine/