Banana and speculoos pie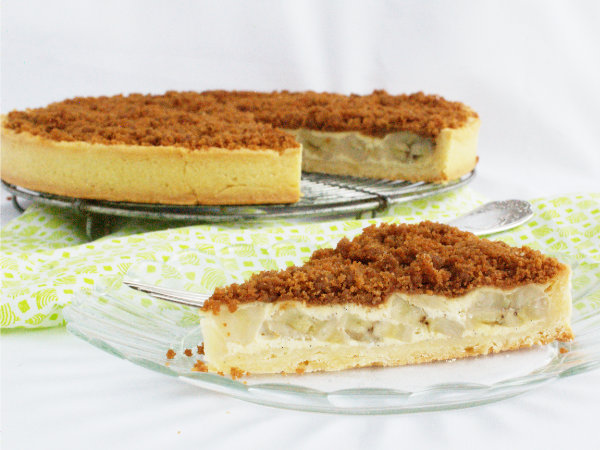 140 g (1 stick+ 2tbsp) butter
90 g (3/4 cup) icing / powdered sugar
The zest of a lemon
40 g (1/2 cup) powdered almonds
½ a vanilla pod
1 egg
1 egg yolk
230 g (1½ cups) flour
1 pinch of salt
1 egg
4 tbsp brown sugar
200 g (1 cup) creme fraiche
1 vanilla pod
2 tbsp dark rum
3 ripe bananas, sliced
100 g (1 cup or 3.5 oz.) speculoos crumbs
20 g (1.5 tbsp) butter
Mix the butter and icing sugar until soft and creamy. All the mixing can be done by hand or with your mixer.
Add the lemon zest and the scraped-out center of the vanilla pod, mix and then add the powdered almonds. Mix well.
Add the egg and the egg yolk and mix. Then add the flour and salt in 3 batches, mixing very briefly after each. Mix only until just combined.
Remove the dough from the bowl and lightly crush the dough slightly using your palm. The aim here is to make sure that all the ingredients are properly combined. This should only be done 2-3 times in order to not overwork the dough.
Cover with cling film and let rest for at least 3h (ideally a night) before use.
Blind bake the pie crust: press the sweet shortcrust pastry into a form, cover it with a sheet of baking paper, and fill with dried beans, rice, or ceramic beads. Bake at 180 C for about 15 minutes, remove the beans and cook for about 5 minutes more until golden.
Mix the egg and brown sugar, then add the creme fraiche, vanilla pod and rum and mix well until combined.
Preheat the oven for 10 minutes at 180°C.
Cut the bananas into slices and place them in the pre-cooked pastry crust. Cover with the creme fraiche mix and bake for 25 minutes.
Mix the speculoos and the butter in a blender until you get a sandy consistency.
Sprinkle the speculoos on the tart and bake for a further 10 minutes.