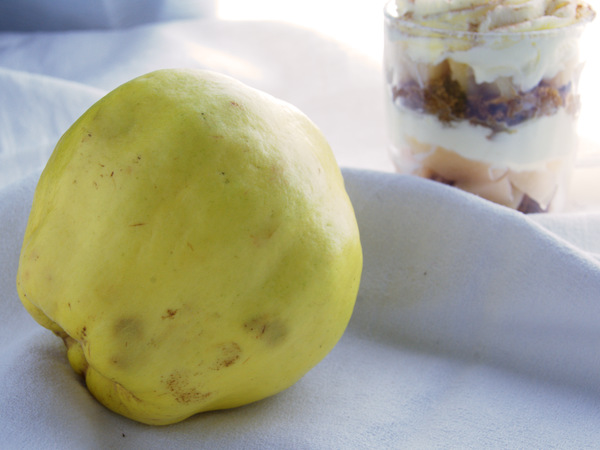 Quinces are not that common in Switzerland, so when I saw them in my local grocery store, I jumped at the opportunity to buy a few. Quinces are similar to apples and pears, but can't be eaten raw (except for a mythical variety mentioned by Pliny the Elder). A Roman cookbook even gives directions for poaching quince in honey, similar in spirit to what we've done in this recipe. In addition to enhancing their fragrant flavour, quinces don't get too mushy when poached.
I'd just made the gingerbread-like honey spice bread recipe, so Kathleen (who also takes most of the pictures on this blog) had the idea to use it with the quinces and created this quince and gingerbread verrine recipe. It was a huge hit with our friends and was very easy to make.
 If you can't find quinces, pears or apples would also be delicious.
You can either make your own gingerbread (or try my spice bread recipe), or used a store bought version to save you time.You may have some leftover poached quinces. If you do, save the poaching liquid as both the quinces and its liquid are delicious over yogurt or ice cream.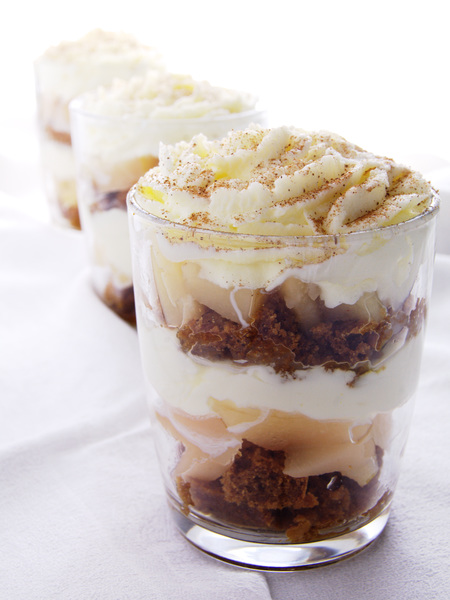 Quince and gingerbread verrine
Ingredients
Poached quinces:
3 quinces
1 litre (4 cups) water
100 g (1/2 cup) sugar
100 g (1/4 cup) honey
Mascarpone cream:
400 g (2 cups) mascarpone
180 g (3/4 cup) heavy cream
50 g (1/4 cup) sugar
Additional:
Instructions
Poach the quinces:
Put water, sugar, and honey into pot and start simmering.
Peel quinces, cut into quarters lengthwise, core them, and immediately put them into the poaching liquid to prevent them from turning brown.
Simmer for 30 - 40 minutes until soft. You know they are done when a knife easily pierces the flesh.
Set aside to cool.
Save the poaching liquid for assembling the verrines.
Make mascarpone cream:
In a mixer with the whisk attachment, beat the the mascarpone, heavy cream, and sugar until it thickens. This should take a minute or two.
Put together the verrines:
Cut the gingerbread or homemade honey spice bread and poached quinces into small chunks
Cut the poached quinces into small chunks
Layer the ingredients as follows:
-Put the honey spice bread on the bottom. Moisten by adding a few tablespoons of the poaching liquid.
-Add a layer of diced quinces.
-Top with a layer of mascarpone cream.
-Repeat until you get to the top of the glass
Top by sprinkling with cinnamon
Notes
If you can't find quinces, you can just as well substitute them for pears or apples.