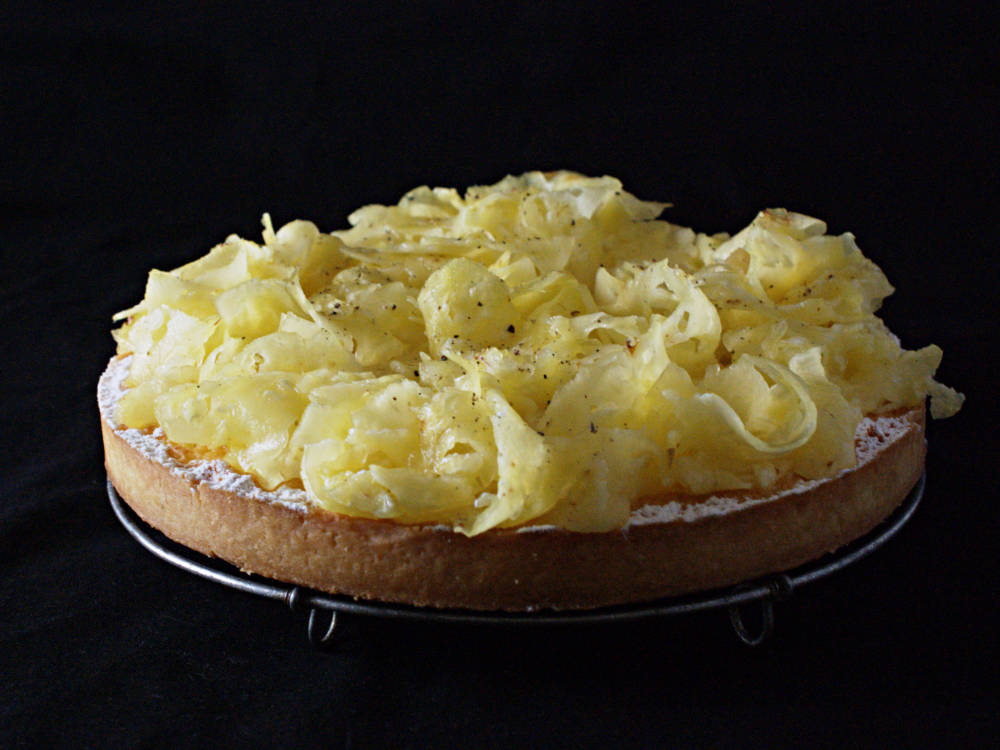 This delicious (and beautiful!) pie is another creation from the talented Thierry Mulhaupt, a pastry chef from the Alsace. Thierry Mulhaupt is particularly well known for his creativity when it comes to pies: he create a new one for every week of the year!
I came across this pineapple and coconut pie in a pastry workshop I attended.  At first, I thought the coconut would be too sweet, but the pineapple brings freshness to the pie and the slight addition of cracked pepper balances it perfectly.
I used a mandoline for cutting these impossibly thin pineapple slices (necessary to style the pineapple on the pie) but you could also use a knife.
Pineapple and coconut pie
Ingredients
Sweet shortcrust:
250g flour
150g soft unsalted butter
30g ground almond (or almond flour)
90g icing sugar, sifted
2g salt
1 egg
Coconut cream:
85g soft unsalted butter
85g sugar
70g shredded coconut
10g Maizena
50g double cream
1 fresh pineapple
sweet almond oil or olive oil
Black pepper
Instructions
Preparing the sweet shortcrust pastry:
Mix the flour and butter. Add the ground almonds or almond flour and the sifted icing sugar.
In a separate bowl, whisk the eggs and the salt, then incorporate to the previous mixture and mix until homogenous.
Wrap the pastry in cling film and chill for 12h.
On a lightly floured surface, roll the pastry out so that it's 2-3mm thick. Line a 22cm tart tin. Prick the base of the pie with a fork to prevent the dough from puffing up while baking.
Preparing the coconut cream:
Cream the butter with the sugar and shredded coconut.
Add the eggs, the Maïzena and the double cream and mix until combined.
Baking:
Preheat the oven to 170°C and pre-blind bake the crust for 10min. Spread the coconut cream on the crust and bake for a further 25 min. Transfer tart to a cooling rack.
Assembly:
Peel the pineapple, remove the heart and cut the pineapple into thin slices using a mandolin. Fold the slices into cones and place them on the pie.
Shave some fresh coconut and place on the pie. As a final touch, grind some pepper and sprinkle on the pie together with a few glugs of olive or almond oil.