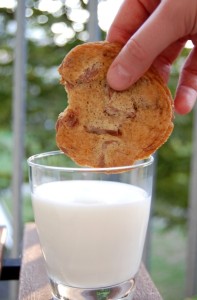 I love chocolate chip cookies!
For my first cookie recipe, I'm sharing my version of the original Nestle Tollhouse cookies. I've made a couple of tweaks to the Nestle recipe: I've replaced the dark chocolate chips with milk chocolate bars (most things taste better with Swiss milk chocolate!), removed the nuts and doubled the vanilla. The end result was a huge hit! These cookies are not only super easy to make, but they can also be prepared in advance so that you can bake them and eat them warm as soon as you fancy one – in just 8 min!
The mix of granulated and brown sugar, together with the short cooking time, results in a chewy cookie. If you prefer more crunchy cookies, you can just extend the cooking time for a couple more minutes.
These cookies can be made in advance and rolled into logs. Just film it and refrigerate until ready to use.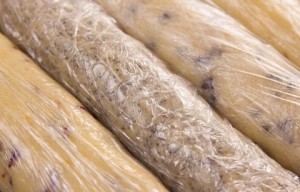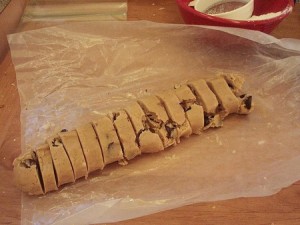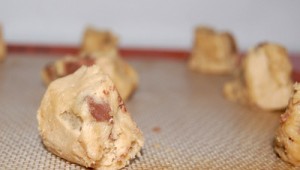 The best soft milk chocolate chip cookies
Ingredients
225 g flour
1 teaspoon bicarbonate of soda
1 teaspoon salt
225 g butter
150 g granulated sugar
150 g brown sugar
2 teaspoons vanilla extract
2 large eggs
350g milk chocolate chips (or milk chocolate bars cut into chunks)
Instructions
Preheat oven to 180°C. Combine flour, baking soda and salt in small bowl. Beat the butter, granulated sugar, brown sugar and vanilla extract in a large mixer bowl until creamy. Add the eggs, one at a time, beating well after each addition. Gradually beat in the flour mixture, but stop as soon as the flour is mixed in. Stir in chocolate chunks by hand.
The mixture is now ready. You can either bake the cookies or you can roll the dough into logs about 2-3 cm thick, wrap in cling film and chill in the fridge until you are ready to bake the cookies. The dough can be kept refrigerated in this way for up to 3 days or up to 1 month in the freezer.
To bake the cookies, drop 1 rounded tablespoon onto ungreased baking sheets and bake for 8 minutes until golden brown. If you prefer your cookies to be more crunchy, you can extend the baking time to 11 minutes.
Cool on baking sheets for 2 minutes (the cookies will collapse if you try to remove them too early); remove to wire racks to cool completely.
Notes
Tips:[br]You can make these cookies ahead as mentioned above.[br]Packed airtight, the cookies will keep for about 5 days at room temperature, or in the freezer for a month. Unbaked logs can be frozen for longer.