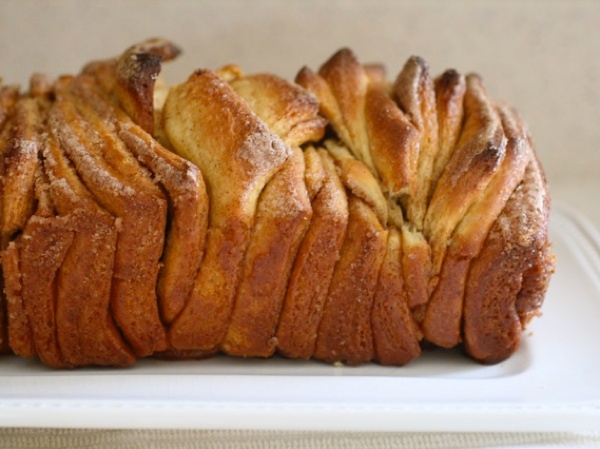 I love all things cinnamon. I'd been eying this recipe for a while as I'd seen it pop up on different food blogs. It's delicious! Definitely a keeper. This version comes from the blog Annie's eats. When I made it, the cinnamon pull-apart bread was a huge hit with children, but also with their parents:-) It's easy to make and looks impressive. Its pull-apart/shareable format makes it a great recipe for brunch with friends or family.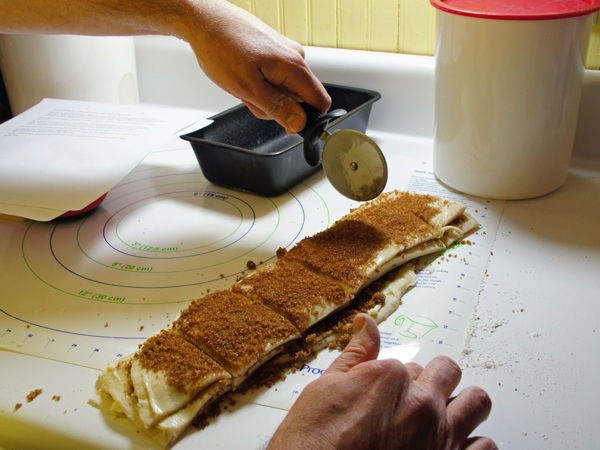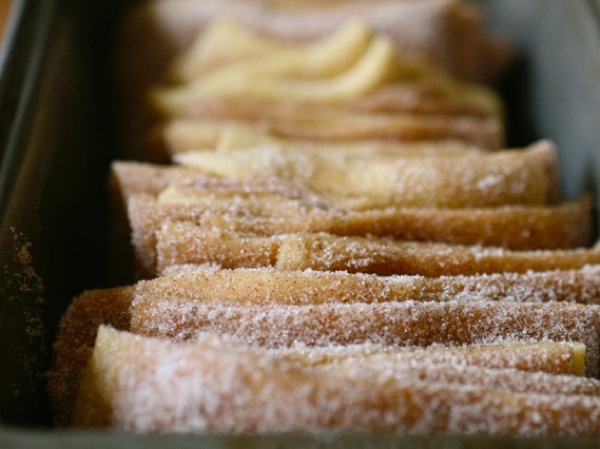 Cinnamon pull-apart bread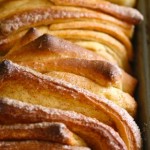 This cinnamon pull-apart bread is a real treat for breakfast or even tea time. Easy to make and a hit with children and adults alike!
For the dough:
390 g (2¾ cups) all-purpose flour
80 g (¼ cup) granulated sugar
2 1/4 tsp instant yeast
1/2 tsp salt
50 g (4 tbsp) unsalted butter
83 ml (1/3 cup) whole milk
80 ml (¼ cup) water
1 tsp vanilla extract
2 large eggs
For the filling:
50 g (4 tbsp) unsalted butter
225 g (1 cup) sugar
2 tsp ground cinnamon
1/2 tsp ground nutmeg (optional)
Combine the flour, sugar, yeast and salt in a bowl and mix using a dough hook.

Meanwhile, heat up the butter and milk in a small saucepan until all the butter is melted. Set aside and let cool until the mixture registers 45-50˚C (115-125˚ F) on an instant-read thermometer.

Add the milk, water, vanilla and eggs to the dry ingredients and mix on low speed until a cohesive dough forms. Continue to knead until smooth and elastic, adding additional flour as needed, 1 tablespoon at a time, until the dough clears the sides of the bowl and is no longer sticky. Knead for a further 3-5 minutes.
Transfer the dough to a lightly oiled bowl, turning once to coat, and cover. Let rise in a warm place until doubled in bulk, about 1 hour. Note: after the dough has doubled, it can be wrapped in plastic wrap and refrigerated overnight. Let stand at room temperature 30 minutes before proceeding.)

While the dough rises, prepare the filling. Add the butter to a small saucepan and melt until browned. Set aside. Combine the sugar, cinnamon and nutmeg in a small bowl and mix well.

Transfer the dough to a lightly floured work surface and lightly punch the dough to release the air it accumulated during proofing. Roll the dough into a ball, cover with a clean towel and let rest for 5 minutes. Roll the dough out into an approximately 30×50 cm (12 x 20-inch) rectangle. Brush the dough with the browned butter. Sprinkle the cinnamon-sugar mixture over the dough in an even layer.

Stack the strips on top of each other and again cut again into 6 equal slices. Stack all the squares on top of each other and place into the loaf pan. Cover loosely with a kitchen towel and let rise in a warm place for 30-45 minutes.

Preheat the oven to 180˚ C (350˚ F). Transfer the loaf to the oven and bake 30-35 minutes, until the top is golden brown. (If the top seems to be browning too quickly, cover loosely with foil and continue to bake)

Remove from the oven and let rest in the pan for 20-30 minutes. Run a knife around the edges of the pan to loosen and carefully turn the loaf out, transferring to a serving plate. Serve warm.