My favourite brownies recipe: fudgy brownies with caramelized pecan nuts and chocolate chips for extra richness and topped with a chocolate streusel.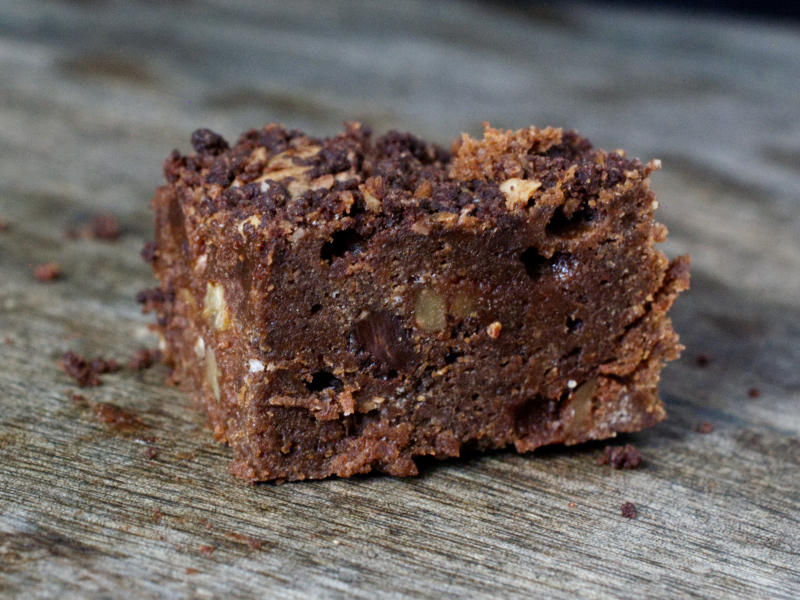 Everyone loves a good brownie. The trick is to find the recipe for making YOUR ultimate brownie, as there are so many different ways you can go. Some people prefer cakier brownies, others more chewy or fudgy brownies.
So where does this one fall?
Oddly enough, it's both fudgy and cakey. How is that possible? I don't know, but if you want the full fudgy texture, you can just place them in the fridge and they will become dense and fudgy. If you prefer a "lighter", cakier version, just leave them at room temperature and they will become more crumbly.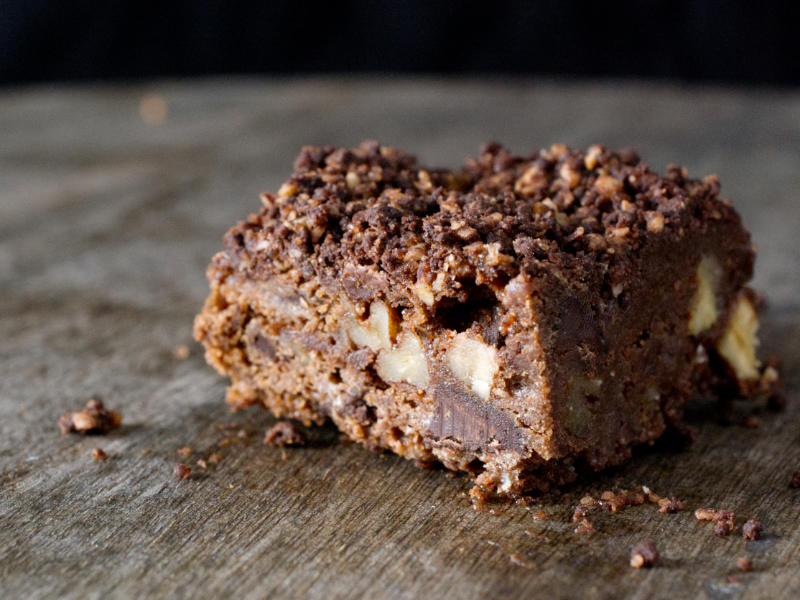 What makes it a deluxe brownie
This recipe is taken from one of my favourite baking books (Sensations by Philippe Conticini) where Conticini tries to twist or at least make some classic recipes his own, by playing with flavours and textures. In the case of this brownie, there are different elements that make it interesting:
The caramelised pecan nuts
The chocolate chips – for extra richness
The cocoa streusel – adds some texture and crunch to the brownies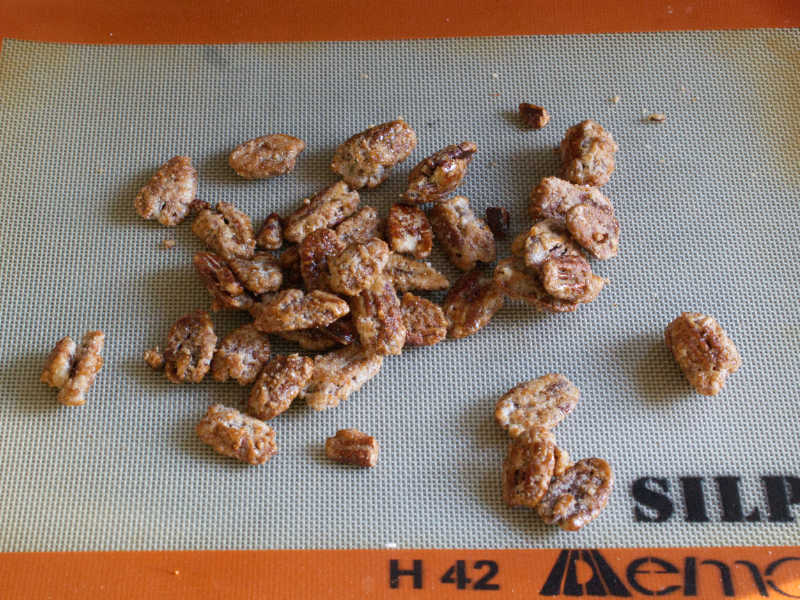 I prepared these for a hiking/hen night trip and they went down EXTREMELY well. If you like brownies and chocolate (ie. everyone), definitely try this one, you won't regret it!
Deluxe Fudgy Brownies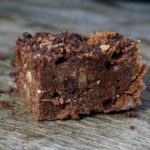 My favourite brownies recipe: fudgy brownies with caramelized pecan nuts and chocolate chips for extra richness and topped with a chocolate streusel.
For the chocolate streusel:
50 gr (1/2 stick) butter
50 gr (1/4 cup) brown sugar
50 gr (1/3 cup) flour
65 gr (1/3 cup) ground nuts (or nut flour)
20 gr (1/4 cup) unsweetened cocoa powder
2 pinches of fleur de sel salt (or maldon salt)
For the pecan nuts:
150 g (1+1/4 cup) pecan nuts
100 g (1/2 cup) granulated sugar
25 g (2 tbsp) water
For the brownie:
125 g (1 cup) dark chocolate + 100 g (2/3 cup) dark chocolate chips
125 g (1 stick + 2 tsp) salted butter
125 g (2/3 cup) granulated sugar
65 g (1/2 cup) flour
4 eggs
Prepare the streusel :
Preheat the oven to 150° C (300F).
In a medium bowl, combine all the ingredients and mix lightly with the tip of your fingers until it barely comes together. Be careful not to overmix! You want to end up with a nice sandy texture. Spread the streusel out of a tray and bake for 30 minutes.
Caramelise the pecan nuts :
In a medium pan, bring the water and sugar to a boil. When the temperature reaches 116° C (250F) (after about 5 minutes), add in the pecan nuts.
Stir continuously so as to coat the pecan nuts with sirup.
Once they have caramelised and are shiny, pour the pecan nuts onto a tray covered with baking paper and let them cool down.
Once they are at room temperature, chop into small chunks.
Prepare the brownies :
Add butter and chocolate in a heat-resistant mixing bowl and it on a pan of simmering water (double boiler or bain marie). Stir until melted. Remove from the heat.
In another bowl, mix the sugar and eggs until the mixture becomes thick, fluffy and pale. Add the chocolate/butter mix, followed but the flour. Finally, stir in the chocolate chips and the pecan nuts.
Pour into a lined 20cm (8 inches) tin, sprinkle with the streusel and chill in the fridge for 1h.
Preheat the oven to 160°C (320F) and bake the brownies for about 30 minutes.