Classic cheesecake recipe topped with seasonal fruit. Tangy and sweet, with a smooth and creamy texture.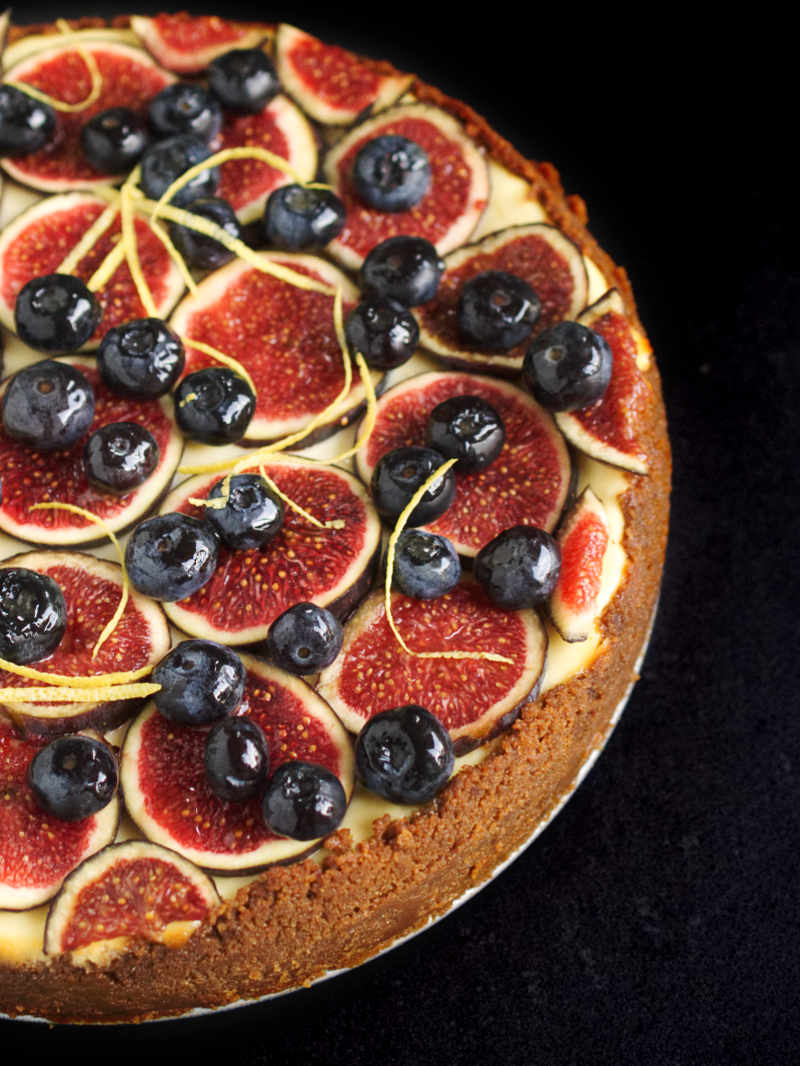 I think I've found my favourite cheesecake recipe!
Cheesecake has always been one of my go-to desserts, but they can be extremely dense and heavy and leave me feeling like I've just eaten a brick.
For this recipe, I was looking for a lighter and fluffier cheesecake. I'd already found one recipe I liked with the pumpkin cheesecake, but for this one, I was looking for a plain cheesecake recipe rather than flavoured.
I'm really happy with how it turned out. The cheesecake still has a richness to it, but is not as dense as the traditional American cheesecake. I also love how smooth and creamy the end result is.
For the topping, I used some seasonal fruit. You can of course substitute the figs and blueberries for whatever fruit are in season.
Recipe inspired by Côté Maison blog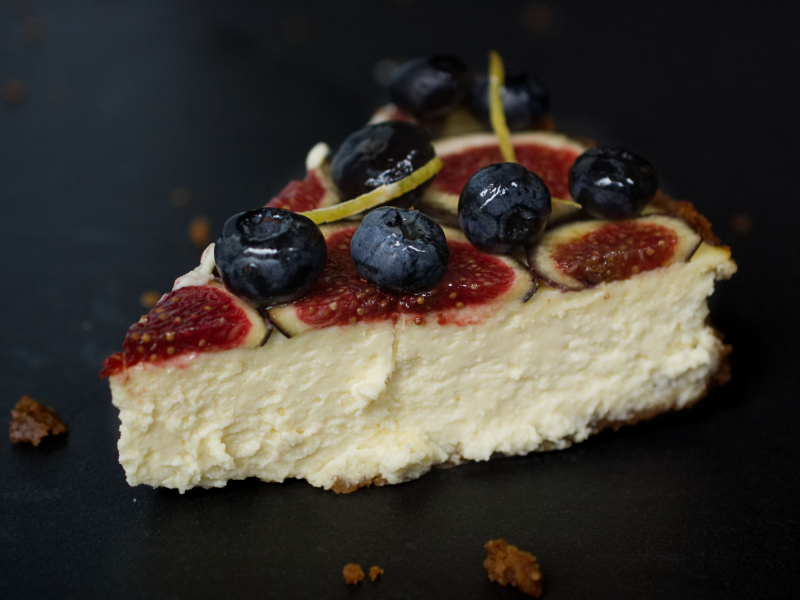 Cheesecake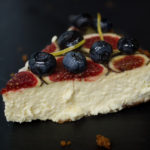 Classic cheesecake recipe topped with seasonal fruit. Tangy and sweet, with a smooth and creamy texture.
Crust
220 g (1 3/4 cups) graham cracker or Biscoff crumbs (about 8 oz)
90 g (4 1/2 tbsp) butter (melted)
Filling
750 g (3 1/3 cups) cream cheese
145 g (3/4 cups) Light Brown Cane Sugar
55 g (1/2 cup) vanilla sugar
125 g (1 cup) cream
3 eggs
2 egg yolks
Prepare the crust
Preheat the oven to 180°C (355F).

In a food processor, pulse graham crackers or Biscoffs until fine crumbs form; add melted butter and pulse to combine.

Press the mixture into the bottom of the dish or pan and slightly up the sides. Use the bottom of a flat measuring cup to help pack it down and smooth out the surface. Make sure it is tight and compact.

Bake for 10-15 min. Remove from the oven and set aside until the crust reaches room temperature.
Filling
Preheat the oven to 200°C (390F).

Using a handheld or stand mixer fitted with a paddle attachment, beat the cream cheese, sugar and vanilla sugar together on medium speed in a large bowl – about 3 full minutes until the mixture is smooth and creamy. Add the cream in 2 batches. Finally add the eggs and egg yolks, and mix only briefly until combined. Pour the filling into the cooled crust.

Bake for 15 min at 200°C (390 F). After 15 min, turn the temperature down to 100°C (210 F) and bake for a further 1h. Turn the oven off and let the cheesecake sit in the oven for 1 hour. Remove from the oven and allow to cool completely at room temperature. Refrigerate for at least 24 hours. Decorate with seasonal fruit before serving.

Store in the fridge for up to 4 days.
This cheesecake will fit into a 23-25 cm (9 – 10 inch) pan and can be frozen for up to 2 months. Cover tightly and freeze. Thaw overnight in the refrigerator before serving.