Plums and cinnamon – a classic combination! I've always had a soft spot for plum tarts, in fact I always use my birthday as an excuse to make one for myself as it conveniently falls in September. Not a very traditional birthday cake but so delicious!
You will need to prepare the shortcrust pastry in advance as it needs to chill for 12h. Alternatively you can also use a store bought pastry to speed up the process. The pastry will need to be pre-baked for 15 min before adding the custard and fruit (instructions below).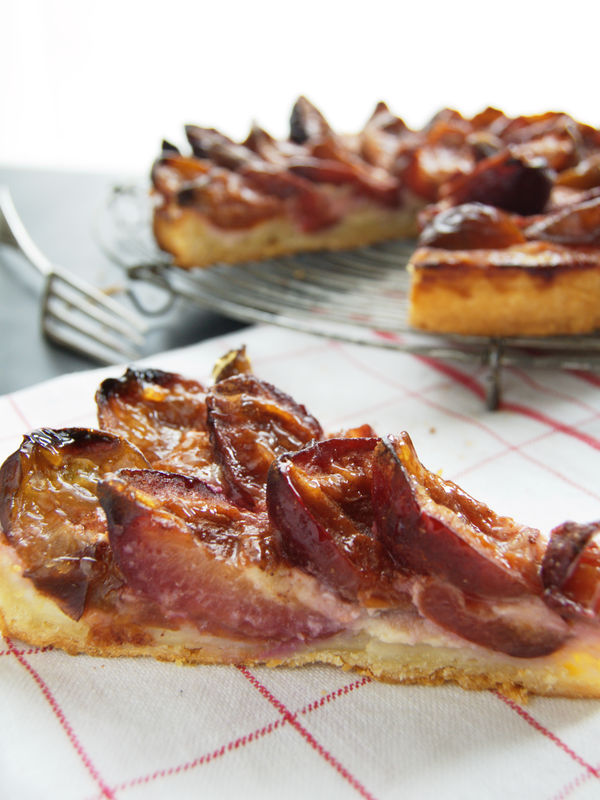 Plum tart
Ingredients
Shortcrust pastry:
250 g (2 cups) flour
190 g (3/4 cups + 2tbsp) butter
25 g (1/2) egg
5 g (1 tsp) salt
50 ml (1/4 cup) water
Custard:
50 g (1) egg
40 g (1/8 cup+2 tsp) sugar
10 g (1tbsp) corn starch
70 ml (1/3 cup) whole milk
55 ml (1/4) cream
Fruit topping:
600 g (3 cups) pitted plums
20 g (1/8 cup) powdered almonds
35 g (1/4 cup) sugar
1 teaspoon cinnamon
Instructions
Shortcrust pastry:
Dissolve the salt in the water.
Mix the flour with the softened butter. Add the salted water and the egg and mix briefly until combined. It's important to not overwork the dough or it will become hard and compact.
Chill for 12h.
Roll out the pastry so that it's 2-3 mm (1/8'') thick. Line a 22 cm (8-9'') wide and 2 cm (1'') high tin.
Prick some holes into it to prevent it from puffing up and place in the fridge for 30 min.
Custard:
Whisk the egg with the sugar and the corn starch using an electric mixer (if you have one) until the they are pale and thick. Add the milk and the cream and mix shortly.
Baking:
Preheat the oven to 180°C.
Mix the sugar and the cinnamon and reserve for later use.
Blind bake the tart: Line the dough with a large piece of baking paper and fill the baking paper-lined crust with pie weights, dried beans or uncooked rice. Make sure the weights cover the entire bottom of the crust. Bake the lined crust until dry, about 15 minutes.
Remove from the oven and cover the base of the tart first with the ground almonds, then with the plums. Pour the custard over the fruit, then sprinkle with the sugar and cinnamon mix.
Bake for a further 60 min, then remove from the tin and let cool on a rack.
Notes
Delicious with vanilla ice cream