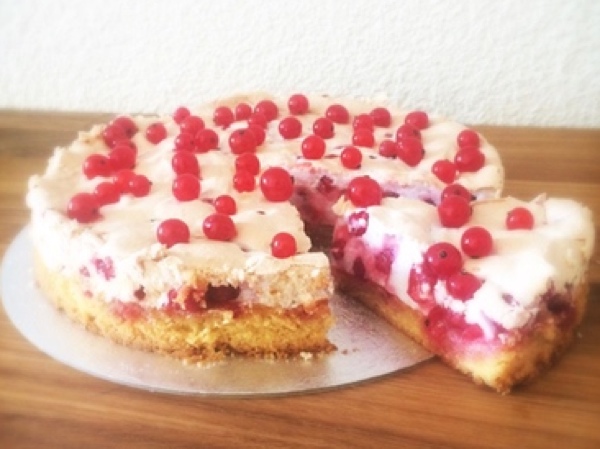 Just like music, some dishes take you back to a given time and place or remind you of a person. This is the case for today's tart. This red currant meringue tart reminds me of my summer holidays as a kid. Every year I would go spend a week at my Swiss grandmother's and she always made sure that the week was memorable: she spoilt me and treated me to all the sweets I couldn't have back home:-) . If the weather was nice, we would go to the local swimming pool and its adjoining bakery: there we would always get the same two things: a cream cheese and chives roll and a red currant meringue tart. I love this tart – it's so airy and the fruit becomes really juicy after baking. But I also love this red currant meringue tart  because it reminds me of my grandmother, how close we were and how great these summer holidays always were.
This cake comes from the great site La popotte de Manue.
Red currant meringue tart
Ingredients
4 eggs
160 gr sugar
160 gr flour
4 gr baking powder
140 gr melted butter
500 g red currants
150 g sugar
Instructions
Pre-heat the oven at 210°C. Mix the egg yolks and sugar until the mix whitens and then add the butter, flour and baking powder. Spread the mix in a pre-buttered tin and bake for 10 min.
During this time, whisk the egg whites and salt and progressively add the sugar. Once the meringue is firm and shiny, add the red currants.
Pour the meringue on top of the pre-baked crust and bake again for 15-20min at 200°C. The top of the meringue should be lightly brown.