These delicious flaked almond tuile are light and crispy. Easy to prepare, they taste great with any dessert, ice cream or by themselves.

What are almond tuiles?
Almond tuiles are thin crispy French cookies known for their distinctive curved shape, which is obtained by placing the tuiles on a rounded item, such as a rolling pin or a bottle of wine, as soon as they come out of the oven.
These light and crispy tuile cookies are usually served with dessert or ice-cream, but I've got to admit that I love them just by themselves! Beware, they are highly addictive!
How do you make tuiles cookies?
This tuile recipe is quick and easy to make: all you need to do is to mix 5 ingredients, spoon the batter onto a tray and then spread the batter into a nice thin oval shape before baking.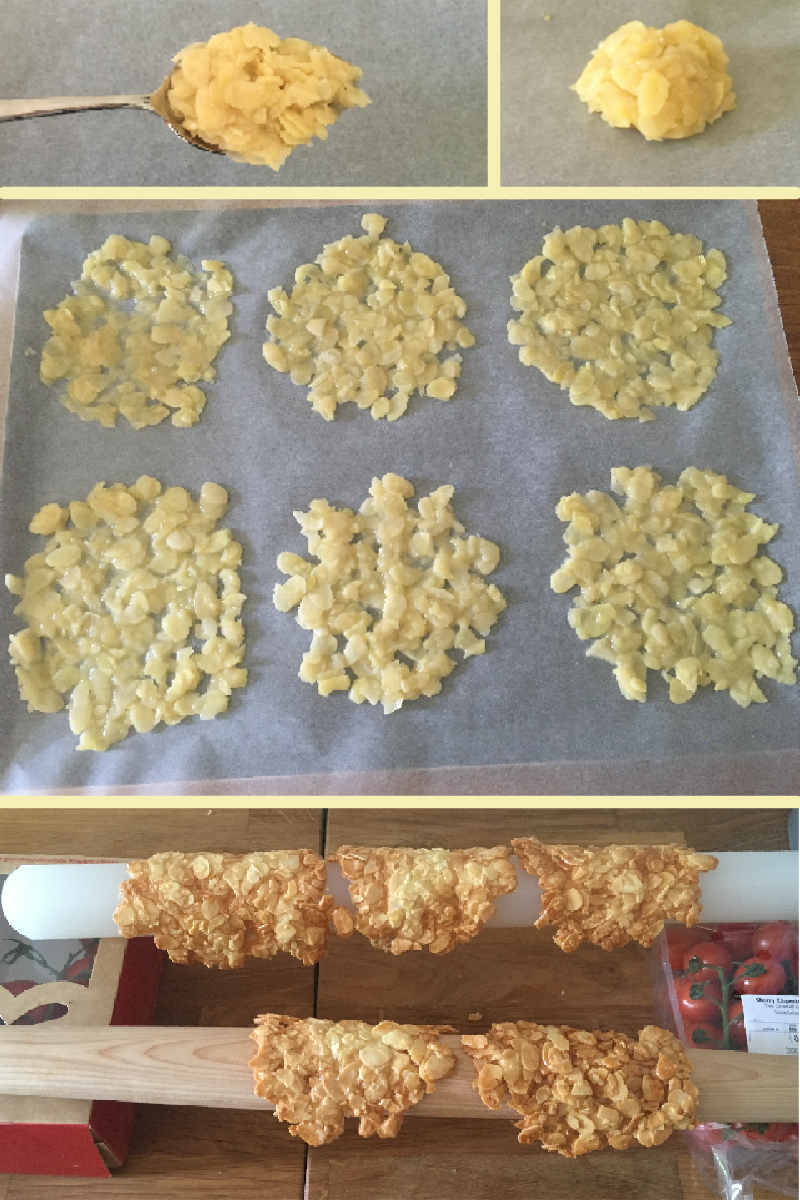 Getting the distinctive tuile curved shape
The key here is to be quick! You will only be able to curve the almond tuile as long as they are warm – they will lose their flexibility and become brittle as they cool down.
You'll need to remove the tuiles from the tray one by one using a spatula and immediately place them on a rolling pin or a bottle of wine as per the picture above
If you're worried about the almond tuiles cooling down too quickly and becoming difficult to shape, you can take them out of the oven one-by-one and leave the remaining tuiles in the oven so that they stay malleable. Important though is to switch off you're oven when doing so!  Be careful to not overcook or burn them though. A good tuile is a golden tuile!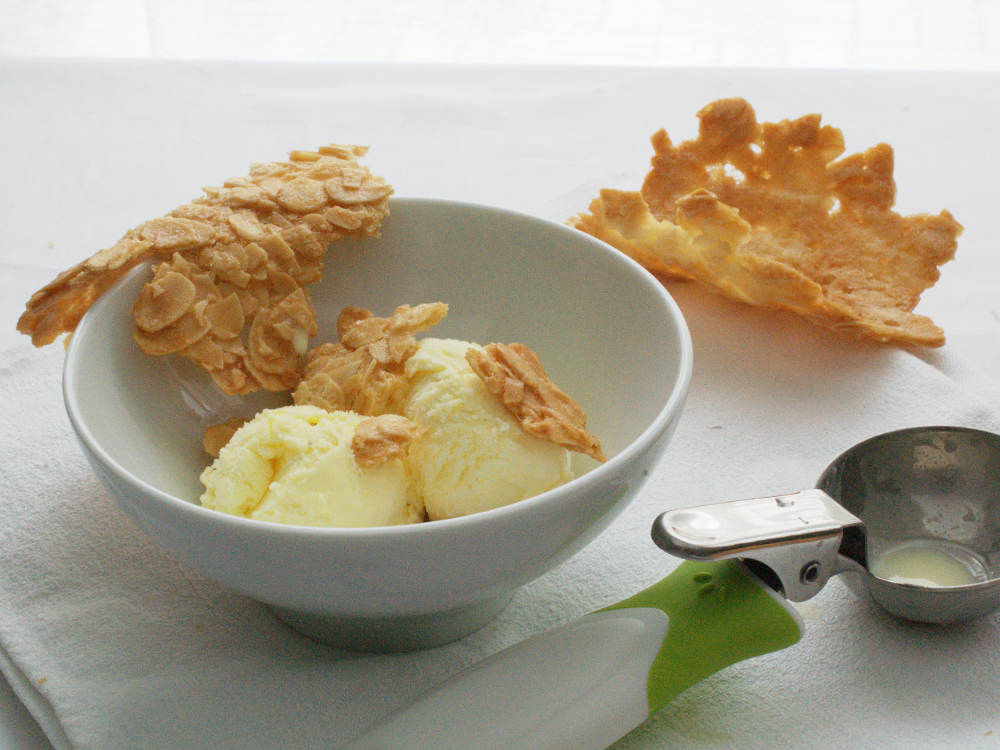 Source: la cuisine de Bernard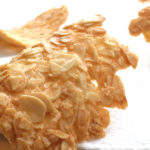 Almond tuile recipe
Ingredients
250

g

(3 cups) flaked almonds

140

g

egg whites

from about 5 eggs

160

g

(1/3 cup) sugar

50

g

(3.5 tbsp) butter

melted

30

g

(1/4 cup) flour
Instructions
Prepare the tuile batter
Place the flaked almonds, sugar and flour in a bowl. Incorporate the egg whites, mix well, then add the melted butter. Mix until homogeneous, then chill for 1h in the refrigerator.
Bake and shape the tuile
Preheat the oven to 175°C (375F). Scoop the tuile batter with a tablespoon and place on a baking sheet. Use a fork to spread the mixture as thinly as possible into an oval shape.

Bake for approximately 10-12 minutes or until evenly golden.

Remove the tuiles from the tray one by one using a spatula and immediately place on a rolling pin or a bottle of wine to give them their curved shape.

Let the tuiles cool down on the rolling pin, then immediately transfer to an airtight container. Any moisture in the air will make the tuiles soft and soggy.