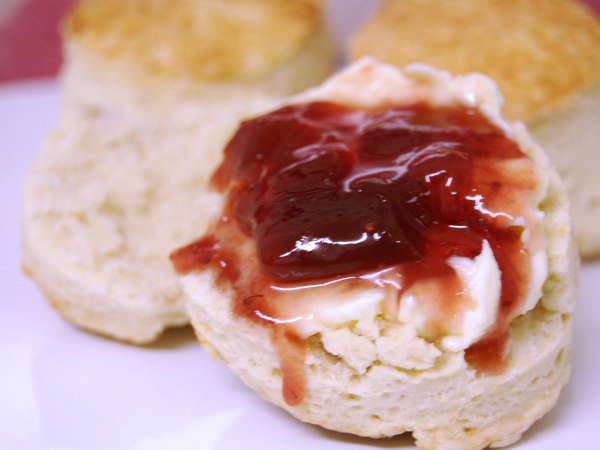 Warm scones served with a rich clotted cream, jam and tea: it doesn't get more British than this! This combination is know as cream tea and is typically served around 4pm at tea time, especially in southwest England where cream teas originate from.
What really makes this tea time treat for me is the clotted cream! Clotted cream is a very thick cream, so dense that it almost turns into butter (hence the colour). I'm usually quite sparing when using butter on bread, but not in this case! There has to be a nice layer of clotted cream on each scone before the jam is added. I had just made a strawberry jam, so this was the perfect opportunity to try out these scones and the clotted cream (as you can tell, I'm more excited about the clotted cream than the scones!
Both the scones and clotted cream are surprisingly easy to make, once you know the tricks which I'll tell you. The clotted cream needs to be prepared in advance as it needs to cook overnight in the oven, but the scones only take 30 min from start to end to prepare.
The scones recipe is from the BBC.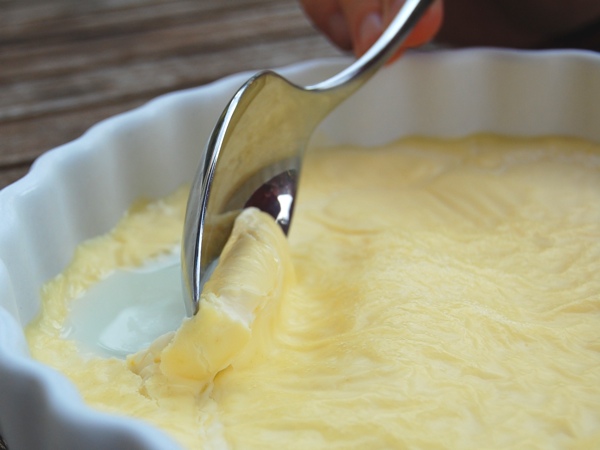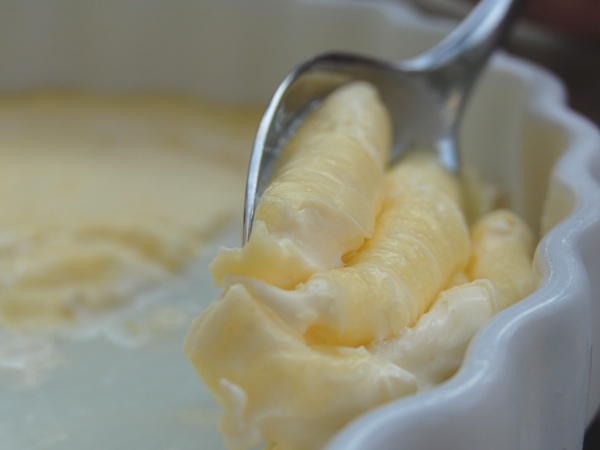 Easy British scones and homemade clotted cream
Prep time:
Cook time:
Total time:
Ingredients
For the scones:
350g flour, plus more for dusting
¼ tsp salt
3 tsp baking powder
85 g <g class="gr_ gr_167 gr-alert gr_gramm Punctuation only-del replaceWithoutSep" id="167″ data-gr-id="167″>butter,</g> cut into cubes
3 tbsp caster sugar
175 ml milk
1 tsp vanilla extract
a squeeze of lemon juice
beaten egg, to glaze
For the clotted cream:
<g class="gr_ gr_166 gr-alert gr_spell ContextualSpelling multiReplace" id="166″ data-gr-id="166″>1 litre</g> full-fat cream (not pasteurised! Very important!)
Instructions
For the scones:
Heat oven to 220°C. Tip the flour into a large bowl with the salt and baking powder, then mix. Add the butter, then rub in with your fingers until the mix looks like fine crumbs. Stir in the sugar.
Put the milk into a jug and heat in the microwave for about 30 secs until warm, but not hot. Add the vanilla and lemon juice, then set aside for a moment. Put a baking sheet in the oven.
Make a well in the dry mix, then add the liquid and combine it quickly with a cutlery knife – it will seem pretty wet at first. Scatter some flour onto the work surface and tip the dough out. Dredge the dough and your hands with a little more flour, then fold the dough over 2-3 times until it's a little smoother. Pat into a round about 4cm deep.
Take a 5cm cutter (smooth-edged cutters tend to cut more cleanly, giving a better rise) and dip it into some flour. Plunge into the dough, then repeat until you have four scones. By this <g class="gr_ gr_162 gr-alert gr_gramm Punctuation only-ins replaceWithoutSep" id="162″ data-gr-id="162″>point</g> you'll probably need to press what's left of the dough back into a round to cut out another four. Brush the tops with beaten egg, then carefully place onto the hot baking tray.
Bake for 10 mins until risen and golden on the top. Eat just warm or cold on the day of baking, generously topped with jam and clotted cream.
If freezing, freeze once cool. Defrost, then put in a low oven (about 160C) for a few mins to refresh.
For the clotted cream:
Pre-heat the oven to 80°C.
Pour the cream into an oven-proof dish. It should come up to 3-7cm on the site.
Place the dish uncovered in the oven and let bake for 12h (overnight for instance).
Remove the dish from the oven and set to cool. Then cover and refrigerate.
The next morning scoop the thickened cream into a jar or jars, cover and put back into the fridge. As simple as that!
Notes
Tip:[br]For the clotted cream, verify that your oven is indeed 80°C hot. You can do this by placing a thermometer in your oven. My clotted cream failed twice before I realised that my oven was overshooting the temperature at times by more than 20°C, which made the cream curdle. If in doubt, better baking the cream on a lower heat