The 2017 Best Pâtissier in the World's scones recipe. They are fluffy and crunchy thanks to a crumble that is sprinkled on top. Add to it some homemade clotted cream and jam and you'll have the perfect teatime treat.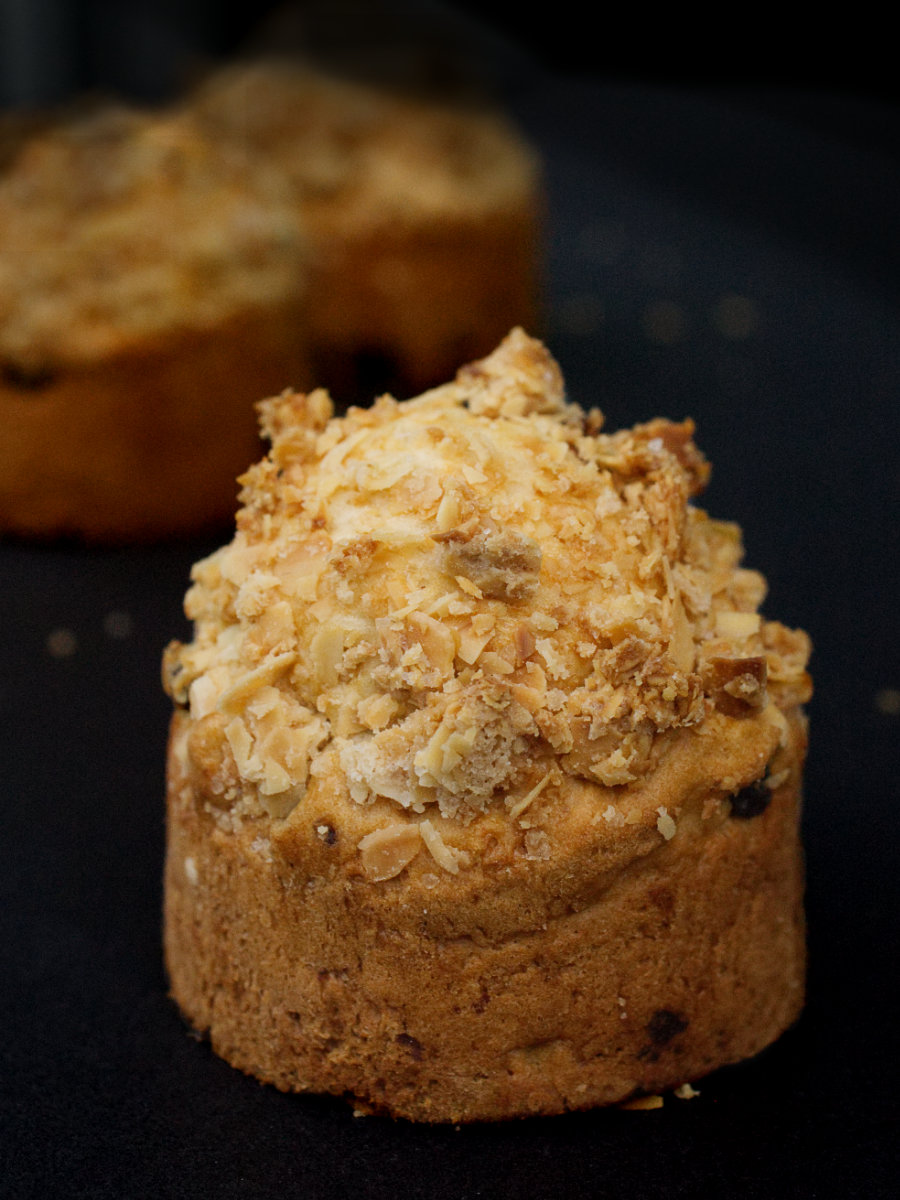 British cuisine isn't always the most popular, but you can find some nice dishes and pastries there.
Case in point: British scones!
Scones are a type of bread/cake, often served with clotted cream and jam for afternoon tea. Together, they make up what's called a cream tea.
Tea time in Paris
Cream teas have recently become popular in Paris.
Many hotels offer cream teas on weekends as part of an "afternoon tea" or "tea time" menus, which usually includes a selection of finger sandwiches, scones, and teas.
I am more often in Paris than in the UK these days. So I haven't had a proper cream tea in a while. Rather than wait for my next trip to the UK, I took the opportunity of a weekend in Paris to book the afternoon tea I'd been most curious about: the Meurice Hotel's Tea Time.
The Meurice's head pastry chef is Cedric Grolet, one of France's most innovative pastry chefs. He is known for his trompe l'œil creations, fruit sculptures (lemons, apples, peaches, grapefruits…) and his Rubik's Cube cakes.
Cedric Grolet served these scones at cream tea, and we loved them.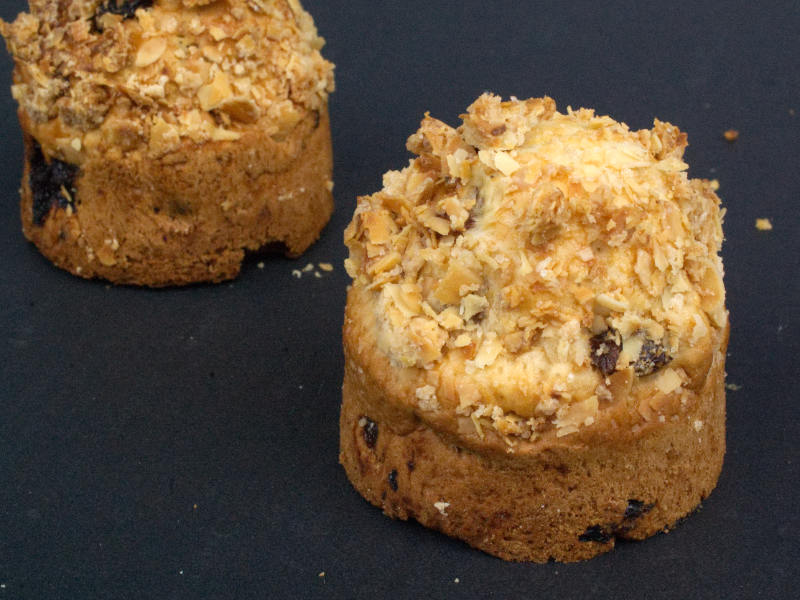 Now to be clear, these aren't your traditional British scones. These are light and fluffy, and topped with a crumble. Traditional scones can be quite dense, and don't have a crumble. I really like the additional of the crumble because it gives the scones an added texture and nice crunch.
This recipe was published in a French baking magazine (Fou de Pâtisserie). Cedric Grolet has since updated it in his cookbook "Fruits" (published last fall). I really enjoyed the original version, so I've kept the original recipe.
These scones aren't too hard to make. I only encountered one challenge and that was with the crumble.
The amount of butter included here isn't quite enough to bind the crumble together. I found it difficult to create the crumble chunks asked for in the recipe.
You could add more melted butter to the crumble, but I found it didn't matter in the end.
This is because you will need to break up the crumble into small crumbs and sprinkle them on top of the scones before baking. Some of them will fall off, but enough will stay on to get the crunch.
Serve with clotted cream
I would really recommend you make your own homemade clotted cream. It sounds daunting, but it's actually incredibly easy and will make these scones even more delicious!
All you need is to plan ahead as the cream takes overnight to clot, but, believe me, coupled with these scones; you'll be in for a treat!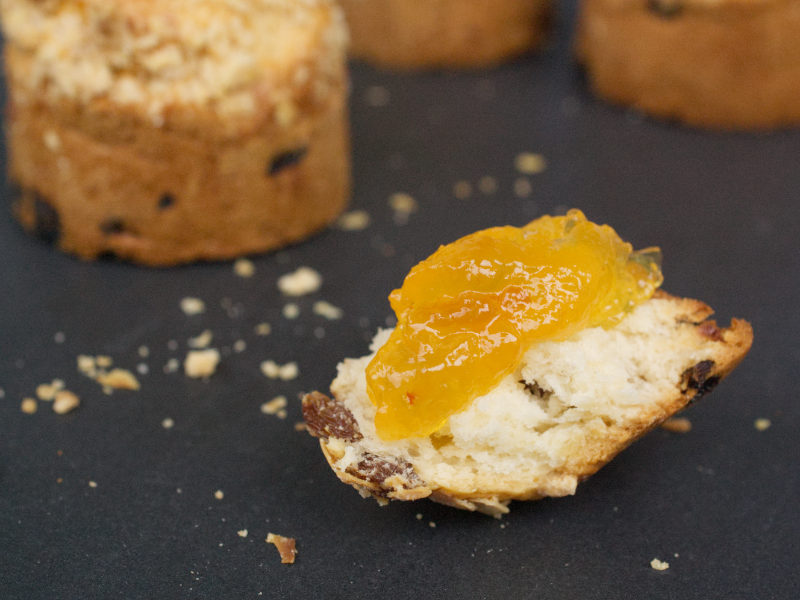 Delicious English Scones Topped With Crumble
The 2017 Best Patissier in the World's scone recipe. They are fluffy and crunchy thanks to a crumble that is sprinkled on top of the scone. Add to it some homemade clotted cream and some jam and you'll have the perfect teatime treat.
Almond crumble
55 g (1/4 cup) butter (softened)
40 g (1/3 cup) sugar
55 g (1/2 cup) flour
75 g (2/3 cup) flaked almond
Scones dough
380 g (3 1/4 cups) flour
20 g (4 tsp) baking powder
85 g (1/3 cup + 1 Tbsp) sugar
20 g (1 Tbsp) inverted honey (or runny honey)
85 g (1/3 cup + 1 Tbsp) butter (softened)
200 g (3/4 cup 1 2 Tbsp) milk
140 g (1 cup) sultanas
Prepare the crumble
Preheat the oven to 170°C (340F) convection oven.

Mix together the sugar and flour and rub in the butter. Add the flaked almonds.

Form 20 g chunks (the equivalent of 1 tbsp) and bake for 6-10 minutes, depending on your oven. Remove from the oven, turn each piece over and bake for a further 6-10 minutes. Remove from the oven and let cool.
Prepare the scones
Pour some warm water into a bowl. Add the sultanas and let them rehydrate for about 30 min. Set aside.

In a large mixing bowl, stir together the baking powder, flour, sugar, trimoline (or honey) and the softened butter, using the dough hook of your standing mixer

Start mixing on a low speed, progressively pouring in the milk. Mix for 3 minutes, and then increase speed to medium and mix for a further 2 minutes.

Drain and dry the sultanas and add to the dough. Briefly mix on low speed until incorporated.
Shaping and baking the scones
Roll out dough between 2 parchment papers to prevent dough from sticking to the rolling pin. Roll out to a thickness of 1.5cm (0.6 inches) and freeze for 15 minutes. This will chill the gluten in the flour, and make the dough rise higher and the scones flakier and softer.

Preheat the oven to 170°C (convection).

Remove the dough from the freezer and cut 6.5 cm (2.5 inches) discs out using a pastry cutter. Tap into it sharply so that it goes straight through the dough. Place into a buttered baking ring of the same width.

Brush the tops of the scones with egg wash and sprinkle with the crushed crumble.

Bake for 20 minutes in the lower part of the oven until the scones are golden brown.