Apricot bars, like all fruit bars, are not only delicious, they are also quick and easy to put together. All you need to do is to cook down some fruit, in this case fresh apricots, and to prepare a crumble, which will serve as the crust and topping for the apricot squares.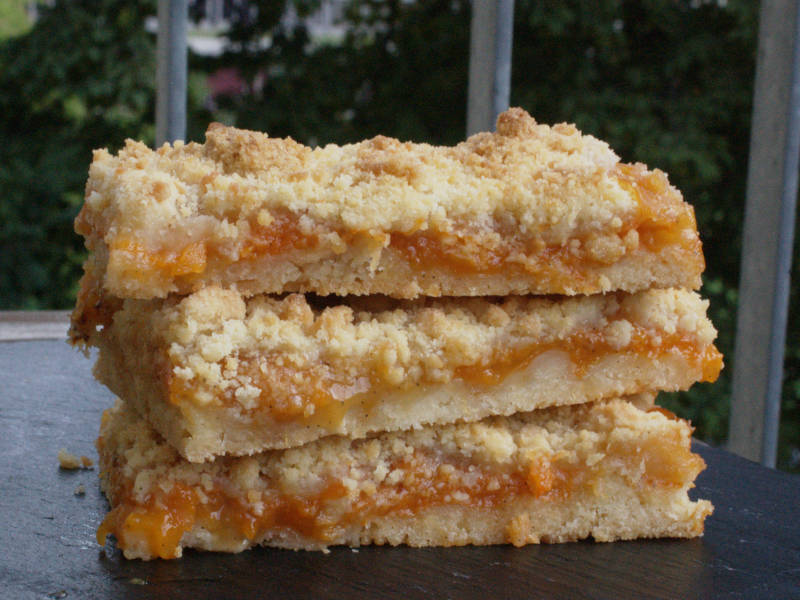 This apricot bar recipe was my first attempt at making fruit bars. I really love fruit-based desserts, and especially fruit tarts & pies. Fruit bars therefore seemed like their easier and faster to prepare alternative!
I prepared these in time for a picnic. It's fair to say that they went down well: they seem to have disappeared as soon as I served them. This calls for a repeat! But next time I'll try bringing my strawberry rhubarb bars !
Apricot bars are a great dessert to throw together last minute. They are also easy to transport and are therefore perfect for summer picnics.
Apricots can become a little tart when baked, but in this recipe the tartness is offset by the crumble which surrounds the fruit. While I used fresh, seasonal apricots, it would be just as good with frozen.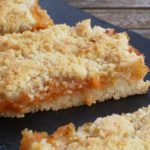 Apricot bars
Total Time
1
hour
25
minutes
Ingredients
For the apricot compote:
800

g

apricots

1.5 lb or about 20 apricots

65

g

(1/3 cup) granulated sugar

1

vanilla pod

1

lemon squeeze
For the crumble:
120

g

(1 cup) flour

110

g

(1/2 cup) butter

110

g

(1 cup+ 2 tbsp) icing sugar

1

tbsp

vanilla extract

1

pinch

of salt
Instructions
Prepare the apricot compote:
Remove the pits from the apricots, cut each half into 4 pieces and place in a small pan.

Split the vanilla pod down its length and scrape out the seeds with a knife. Add the vanilla seeds, vanilla pods, lemon juice and granulated sugar to the pan and cook on a medium heat for about 10 minutes.
Prepare the crumble:
Preheat the oven to 180°C (356 F).

With the tips of your fingers, mix the flour, butter, salt, icing sugar and vanilla extract gently together until a sandy crumble texture forms.

Spoon 3/4 of the crumble into a greased 20x20 (8'x8') square baking pan (or alternatively a 20cm round baking pan) and distribute evenly. Spoon the apricot compote over the crumble then sprinkle with the remaining crumble.

Bake for approximately 45 minutes or until the crumble is golden brown. Remove from the oven and allow to cool for approximately 15-20 minutes, then cut into bars.

Store in an airtight container until ready to serve.